---
Contact Us
---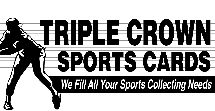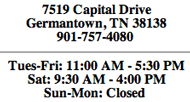 ---
Established on August 1, 1998, Triple Crown Sports Cards is a small, family owned and operated business located in Germantown, Tennessee (a suburb of Memphis).

We have a varied selection of hobby boxes/packs, sets, sports figures, and memorabilia. However, the bulk of our inventory is made up of singles which span from pre-war to the current year. Cards in stock include star and rookie cards, memorabilia cards, autographed cards, inserts, and vintage commons.

There is a large portion of our store's inventory which is not listed on our site. If there are any items that you are looking for which are not listed or if you need a scan of an item, please email us. Due to market conditions, prices are subject to change. Please e-mail to confirm price and availability of an item.